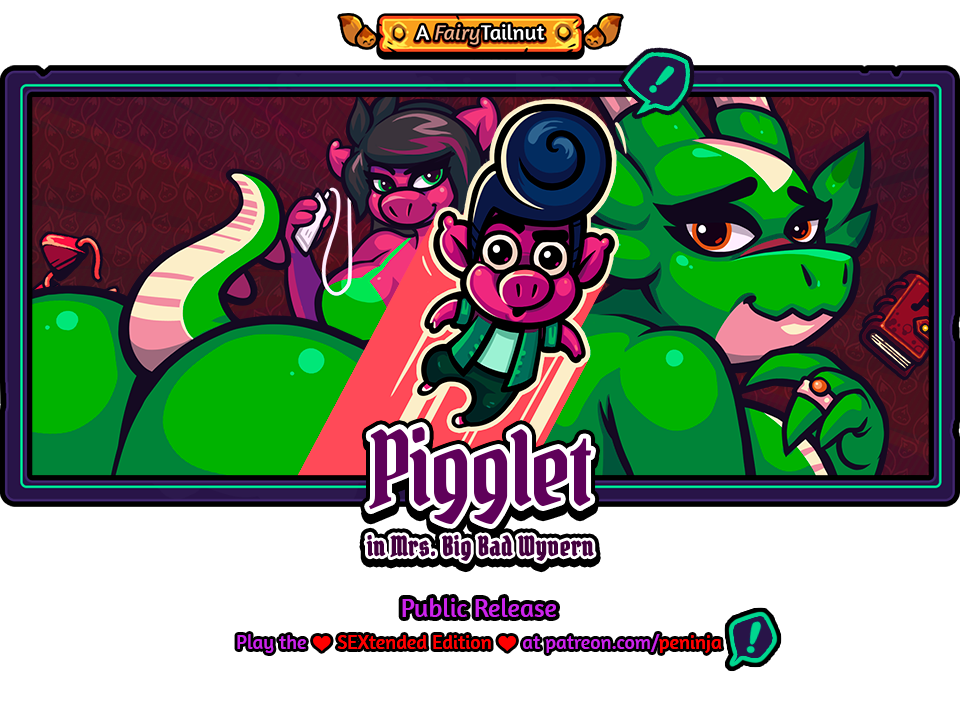 Pigglet in Mrs. Big Bad Wyvern (18+)
Comments
Log in with itch.io to leave a comment.
I can't seem to get past the levers
Heyho! Thanks for playing!
Downloadable (SExtended) versions are a bonus for our Patrons ;)

Stay funky,
Dez

Why can't I say I didn't enjoy it at the end? What is this illusion of choice bullshit?
That was really funny and naughty! I love a lewd kind of game that doesn't take itself too seriously!
I really enjoyed this as well as you guys' great graphic style! The character designs are awesome and I love the little Pigglet's face in all the scenes he's in, he's so happy, haha!
I really hope to see more from you guys soon and I hope my comment made you smile! Have a great day!
Heyho, Alaura!
Thanks a ton, very glad you enjoyed the game :) And yes, your comment made us smile!

If you'd like to play more Pigglet adventures - we currently have 'Pigglet in Mrs. Big Bad Werewolf' in the making :)
We'll release it this weekend here on itch, and if you'd like to play it earlier, this here is the place:
https://www.patreon.com/posts/pigglet-in-mrs-v-24721736

Let us know how you like it and stay funky,
Dez
In my opinion a sweet and naughty game with a great graphic style!
This was a cute game! I liked the character designs and dialogue haha good luck with the rest of your projects!
Hey Count Moxi!
Thanks a ton! Glad you enjoyed your adventures in Mrs. BBW :)
Stay funky,
Dez